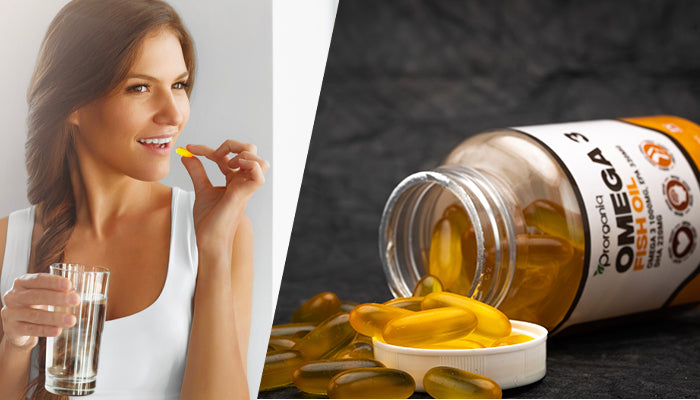 In today's fitness-conscious world, more and more people are realizing the countless benefits of fish oil that are an excellent source of omega-3 fatty acids.
How To Use Omega-3 Fish Oil?
Ideally, you should take your fish oil supplements with foods that are high in healthy fats (such as nuts and avocados). This is primarily because foods rich in healthy fats will help your body quickly and efficiently absorb fish oil.
Moreover, taking fish oil supplements with full meals also reduces the chances of indigestion or fishy burps.
If you want to use fish oil to improve your skin, you should ideally go for omega-3 supplements that are made with small fish such as anchovies. It is interesting to note here that fish oil can be used as a good moisturizer if its scent is not an issue with you.
When taken orally through fish oil supplements, fish oil can quicken wound healing, offer protection against the sun's damaging ultraviolet rays, and reduce inflammation.
You may apply fish oil on your face, especially non-oily parts of the face such as near the eyes or on rough patches of the body. You can even apply fish oil on dry places of your body such as knees and elbows.
However, you should avoid applying fish oil and then going out into the sun. However, you should observe great care if you are prone to acne as fish oil may clog pores and exacerbate breakouts.
It is important to store fish oil tablets at room temperature and refrigerate liquid fish oil to maintain its potency. Also, you should always protect fish oil against direct sunlight, heat, and moisture.
Unless recommended otherwise by your doctor, you should not exceed 2 grams (0.071 oz) of fish oil per day. Healthcare practitioners may recommend a higher dose to treat patients with high triglycerides (a type of fat linked to diabetes, heart disease, and other medical conditions).
We hope that this guide on how to use fish oil helped you gain a clear and complete understanding of how to use fish oil.
Note: In case you have an allergy and you are worried about your omega-3 levels, you may have a word with your doctor or dietician to recommend an alternative dietary supplement.
For More: https://prorganiq.com/blogs/new/10-benefits-of-omega-3-fish-oil