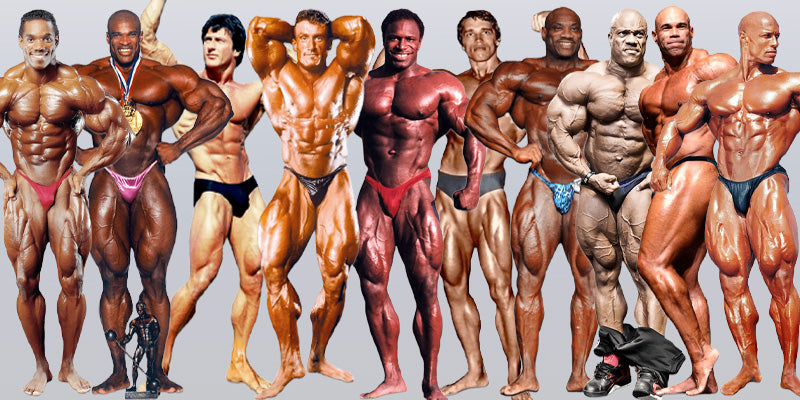 Whether you've been lifting for years or are a bodybuilding beginner, the motivation to conquer sets and reps at the gym doesn't come any better or bigger than knowing a thing or two about the best male bodybuilders of all times.
The ground-breaking physiques and humongous achievements of these renowned bodybuilders have shown to the world that nothing is impossible and that the old-age saying of "no pain, no gain" stands true even today.
Let us read about some of the best male bodybuilders of all time.
Flex Wheeler
Known as the 'Sultan of Symmetry', Kenneth 'Flex' Wheeler stunned the world by capturing an impressive 17 professional titles. However, he was unlucky to have missed out on the Mr. Olympia crown, which is unarguably the most coveted title in bodybuilding.
Wheeler won the Arnold Classic a record four times and went on to achieve the coveted 'triple crown' by conquering the Ironman, the Arnold Classic, and the San Jose Classic. No wonder, Wheeler was described by eminent greats such as Arnold Schwarzenegger and Ronnie Coleman as the greatest ever.
In the terms of flawless competing physique, Wheeler was everything that bodybuilding represents with a perfect combo of muscular definition, symmetry, size, and proportion. No wonder, he is hailed as the greatest bodybuilder of all time.
Ronnie Coleman
Setting the records tumbling every now and then, Ronnie Coleman won an impressive 26 titles throughout his career, including eight Mr. Olympias.
At the start of his illustrious career, Ronnie had a physique to die for and proud of. The size of the symmetry and muscle he demonstrated on his back is still unbeatable.
Frank Zane
The lean yet highly defined 190-frame of Frank Zane inspired one and all with great poise.
No wonder, a big majority of fitness enthusiasts would choose the overall appearance and physique of Frank Zane any day to show off in a muscle shirt.
Zane defeated Arnold Schwarzenegger for the 1968 IFBB Mr. Universe title despite the fact that he weighed 60 pounds less.
Dorian Yates
For most of his fans and the bodybuilding community, Dorian Yates is the strongest and greatest bodybuilder of all time.
The work ethic of Dorian Yates along with a never-ending list of his achievements and the most granite-hard conditioning in bodybuilding made him a big icon.
Dorian is best known to devote every day of his life to working out with brutal and intense routines on top of his to-do list.
Lee Haney
Lee Haney holds the distinction of being the only bodybuilder to ever conquered Mr. Olympia and never lose the title. Lee retired after a record-breaking 8 consecutive victories.
Some hail Lee as the first bodybuilder to provide both conditioning and size. With a 250-pound frame, Lee demonstrated razor-sharp definition and incredible eight-pack abs.
Arnold Schwarzenegger
Unarguably the most popular bodybuilder of all time, Arnold Schwarzenegger is a name that everyone associates with high-intensity bodybuilding sessions and techniques.
The Austrian-born bodybuilder, actor, and politician was the youngest Mr. Universe at just 20 years old. Arnold went on to win a further four Mr. Universe titles and seven Mr. Olympia titles.
Arnold Schwarzenegger made a big name for himself in the hearts of bodybuilders across the world with his 'Pumping Iron' documentary.
Dexter Jackson
Famed forever for the deepest set of abs in bodybuilding, Dexter Jackson was known as 'The Blade' for his precise conditioning and razor-sharp cuts.
Dexter held a record-setting 28 IFBB professional bodybuilding titles and won the Arnold Classic five times. Dexter also went on to win Mr. Olympia in 2008.
Phil Heath
Phil Heath won seven straight Mr. Olympia wins from 2011 to 2017. Nicknamed 'The Gift', Phil had a near-perfect structure.
Kevin Levrone
Many consider Kevin Levrone the most underrated bodybuilder of all time. Kevin used to mesmerize fans with a chiseled midsection and his incredible arms and delts. He won more than 23 professional show titles but was unlucky to miss out on the coveted Mr. Olympia title.
Shawn Ray
The body of Shawn Ray was synonymous with a perfect blend of proportion, size, and balance. Known as 'Mr. Symmetry', Shawn has never been crowned Mr. Olympia but is considered to possess one of the most inspirational physiques of bodybuilding.
You too can follow their lead with the right blend of attitude, perseverance, and zeal.
Image Credit: https://historyofbodybuilding.com/