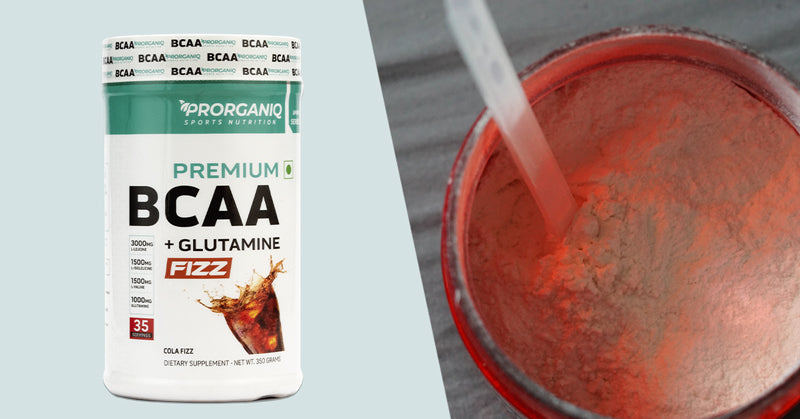 In the world of sports nutrition supplements, BCAAs and EAAs are two of the most popular terms among fitness enthusiasts across the world.
Let us read more about EAAs (essential amino acids) and Branched Chain Amino Acids (BCAAs) and which is better for your fitness goals.
What is BCAA?
Muscles of our body are constantly creating [muscle protein synthesis (MPS)] and breaking down [muscle protein breakdown (MPB)] proteins. The rates of MPS and MPB are almost even when the muscles are at a steady state (neither growing nor shrinking).
Anything that can shift the balance between MPB and MPS towards MPS and away from MPB should lead to increased muscle growth. This is where BCAAs step in and helps you gain solid muscles by activating anabolic signaling in the body.
Branched Chain Amino Acids (BCAAs) are made up of leucine, isoleucine, and valine. They are capable of bypassing the liver and go directly into our muscles to be oxidized there for energy.
One of the biggest advantages of BCAAs is that they are characterized by a rapid absorption rate and act as a high-protein and low-carb fuel. This helps fitness enthusiasts push through a few extra sets and reps while training.
A majority of fitness enthusiasts appreciate BCAA supplements as pre-workout supplements as they help them access some more energy, stamina, power, and endurance to handle intense workouts.
Moreover, BCAAs help with muscle mass, size, definition, growth, healing, and recovery to support muscle building. They can also be used as post-workout supplements to support muscle mass and strength gains while reducing muscle soreness.
What is EAA?
EAAs (essential amino acids) are primarily found in food products since all proteins are made up of amino acids. Therefore, it becomes important for you to get premium-quality amino acids in your daily diet through supplements or foods as they will help you gain and maintain lean muscle mass and build solid muscle.
A high percentage of EAAs is usually found in protein-rich foods such as dairy products, soy, eggs, lean red meats, lean poultry, and other plant-based proteins.
EAAs includes all nine essential amino acids: leucine, lysine, methionine, phenylalanine, threonine, tryptophan, histidine, isoleucine, and valine. They can increase your body's basal metabolic rate to regulate weight and EAA supplements are also known to prevent a catabolic state so you can grow more muscles.
You can take EAA supplements any time throughout the day (pre-workout, post-workout, or before retiring to bed).
You should include EAA supplements in your daily health and workout regimen if you want to improve tissue repair, food breakdown, exercise endurance, and muscle-building.
The recommended dose of EAA supplements is 15 grams a day, on your workout as well as rest days.
EAAs are an excellent choice for you if:
You are vegan or do any kind of fasting. Supplements enriched with EAAs can help you prevent muscle loss and optimize gym performance.
You exercise regularly without fail. EAA supplements can promote better body composition, greater resistance to fatigue, and stimulate power and muscle strength gains.
You have a busy or stressful lifestyle or are prone to injuries. EAA supplementation can go a long way to prevent the side effects of a stressful lifestyle and can help you be in the top body shape.
Which among BCAAs and EAAs is better and why?
Some fitness enthusiasts prefer BCAAs and some prefer EAAs. The final selection actually boils down to the expected benefits, the training regimen, body composition, affordability, and the availability of genuine and purest sports nutrition supplements.