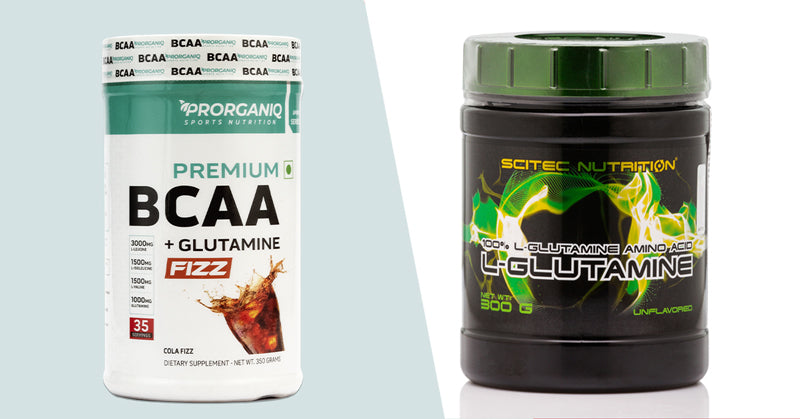 Are you looking for a powerful ergogenic and sports nutrition supplement to significantly enhance strength performance and power output to hit the gym like never before?
Do you want to generate anaerobic adenosine triphosphate (ATP) to provide explosive energy to your muscles?
Let us find out how you can conquer your sets and reps at the gym with undisputed authority by discovering a few things about Branched-chain amino acids (BCAAs) and Glutamine.
Branched-chain amino acids (BCAAs) and Glutamine can be defined as excellent sports nutrition supplements to prevent muscle fatigue, damage, and soreness while helping you build solid muscle mass.
They help you pack on more muscle protein and recover quickly between your sets and reps at the gyms.
What is Glutamine?
Glutamine can be described as a non-essential amino acid that is considered to be one of the primary protein-building blocks. In the body, muscles are formed because of proteins that assist the immune system and are responsible for transporting essential substances in the blood.
All in all, glutamine is vital to maintaining your overall health and well-being. Primarily, glutamine exists as L-glutamine and D-glutamine and the form of glutamine that is usually found in our foods and sports nutrition supplements is L-glutamine (generally listed as glutamate).
The primary purpose of Glutamine is to preserve muscles and prevent them from going into a catabolic state.
The levels of glutamine get depleted when we work out and this is where Glutamine supplementation comes into the fray.
Glutamine supplements are highly effective to maintain cell volume and hydration that, in turn, speed up recovery after intense workouts. Glutamine is also useful to balance nitrogen levels and enhance the secretion of growth hormones in the body.
It can also be effective to enhance post-exercise glycogen synthesis and prevent the egregious effects of overtraining to improve gym performance and total recovery time.
What is BCAA?
Branched-chain amino acids (BCAAs) refer to three essential amino acids: leucine, isoleucine, and valine. BCAA supplements are often used by fitness enthusiasts to help your body recover quickly after intense workouts while also helping you build solid muscles and stay protected against muscle soreness, damage, and fatigue.
They promote protein synthesis and inhibit protein breakdown while also replenishing glucose levels in the body. In addition to these advantages, BCAA supplements help you get rid of stubborn abdominal and visceral fat so you can go lean and achieve a better body composition.
One of the biggest benefits of BCAA supplements is that they significantly enhance intra-workout performance and this is the primary reason why BCAAs are routinely added as a sports drink ingredient.
In addition to these advantages, BCAA supplements can also help you improve muscle mass, size, and definition while also enhancing the ability to hit the gym longer and harder. Leucine demonstrates unmatched efficacy to trigger muscle protein synthesis so that the body always stays in an anabolic (muscle building) state.
We hope that this guide on glutamine and BCAAs would help you achieve all your health, fitness, and bodybuilding goals.