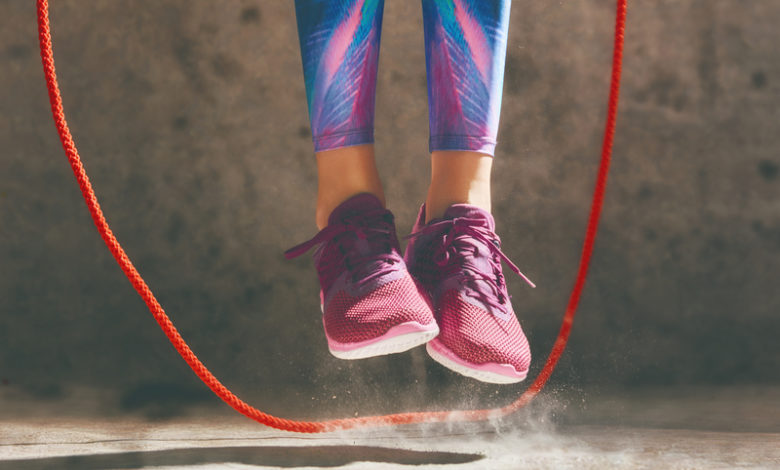 Skipping is one of some favorite exercises of the majority of people's childhood.
The reason for this is the adrenaline rush in the body we experience with this cardioversion, the release of happy hormones called endorphins, and inhibition of cortisol the stress hormone.
It gives a different form of exhilaration and ecstasy. This form of exercise is that world-class athletes swear by.
With such fun elements in this exercise, it also helps you lose weight significantly in just one or two weeks.
Yes! You heard it right. 2 weeks and you will lose your weight on a remarkable level. Isn't it fun? While playing your favorite childhood game you would be able to deal with the stress of being overweight.
It is just like consuming medicine with a sweet taste. Its portability makes it easy to bring along anywhere you want it to without any burden which makes it harder for you to skip your skipping exercise.
The core benefit of skipping as a weight-reducing exercise is that it burns major calories. Compared to jogging for 45 minutes, skipping rope can burn more calories.
It is said that 15 minutes of skipping rope can be considered equivalent of running 12-minute mile.
But the important point here is that you cannot lose weight by just skipping; numerous factors will affect your weight-loss journey. If you are actually interested in losing your weight efficiently then hear me out. I am listing some factors below which can make a huge deal of change in your weight loss plans.
The skipping exercise can solely help you lose your weight only if you are burning more calories than you are consuming them which is termed as "Calorie deficit". 
Create your nutrition and calorie balance to not lose your body muscle and get into a healthy physique.
Your Weight loss and Physique Goals
It depends on what kind of physique you have and what are you're expecting from your workout. If you have a huge body and a lot of muscle mass on your body then high intensity would be very helpful for you to lose your body fat and weight.
But if you are doing just fine with your muscle mass then you only need to maintain that with basic skipping exercises.
Level of commitment for the workout
If you want to lose weight significantly in just 2 weeks then you need a solid commitment towards your workout plan.
It doesn't mean you have to skip rope for 15-20 minutes continuously but the key here is HIGH-INTENSITY INTERVAL TRAINING (HIT) which means you have to take breaks between your workout sessions.
For example-You skipped rope for 45 seconds straight then you would take a rest for 90 seconds and after that, you will repeat this for multiple sessions.
Keeping these key points in mind I dare you to take a 2-week Skipping Rope Challenge. Following the challenge, I guarantee that you would be able to lose your weight by 3-6 kg. I am listing some kind of skipping exercise with a rope with the help of which you would be able to make it fun:
Warm-up exercise:
Skip Fast Feet: Hold the poles or handles of the rope in both hands with rope lying on the ground.  
Skip the rope with one foot and then do the same with the other foot. Now back skip the rope with one foot and do the same with the other without moving the rope.
Now if you are a beginner with overweight you may face some problems when skipping holding the rope in both hands like breast pain, tensed arms, etc. 
Here are some exercises you can do while using a single arm:
Skip high knees: Hold both the handles of skipping rope in the left hand. Swing the rope at the left side of your body and jump with one foot taking your knee up to your hip level.
Do the same with the other foot alternatively. After a 30 second session and 60 minute rest; do the same with right hand.
Skip cross hops: While jumping, hold both the ends of the rope in the left hand and swing the rope towards your right foot (of your body) slapping the floor then swing the rope again from the right side towards left foot making a cross with the swings.
Do the same with the rope in your right hand after a session of 30 seconds and a minute break.
Let's take a look at health benefits we can expect from skipping:
Improves Lung capacity – According to the American College of Sports and Medicine, skipping rope increases aerobic conditioning by giving your lungs the kind of workout they need to function efficiently. It will save you from many lung infections as it works as a kind of immunity.
Builds Your Stamina – You can run for 5 minutes but won't feel tired but try skipping continuously for 5 minutes and I guarantee you won't be able to make it easy or you will even be done with it in just 2 minutes.
So this is the best proof that skipping can build your stamina crazily. Give it a try and you will get to know the results very soon.
Improves Heart Health – When you do high-intensity workout, it helps your heart to work at a faster pace than usual thus increasing the working efficiency of your heart.
Improves Bone Density – Dr. Daniel W. Barry, an assistant professor of medicine at the University of Colorado, at Denver, is a researcher who has studied the bones of the elderly and athletes, says that the best exercise to improve bone density is simply jumping up and down. 
"Jumping is great, if your bones are strong enough to begin with." 
Improves coordination and balance: Coordinating your hand movements with that of your legs enhances the cognitive functions of your brain.
Practicing the same consistently will not only improve the coordination of your reflexes but also the balancing efficiency.
Hope you liked the how skipping can help you to lose weight in 2 weeks. 🙏
ALSO READ:
How Many Kms to Walk Daily for Weight Loss? - Find the ...
2 comments
Thank you for your valuable feedback. Keep supporting us!

Thank you very much, I'm happy to know that skipping is good