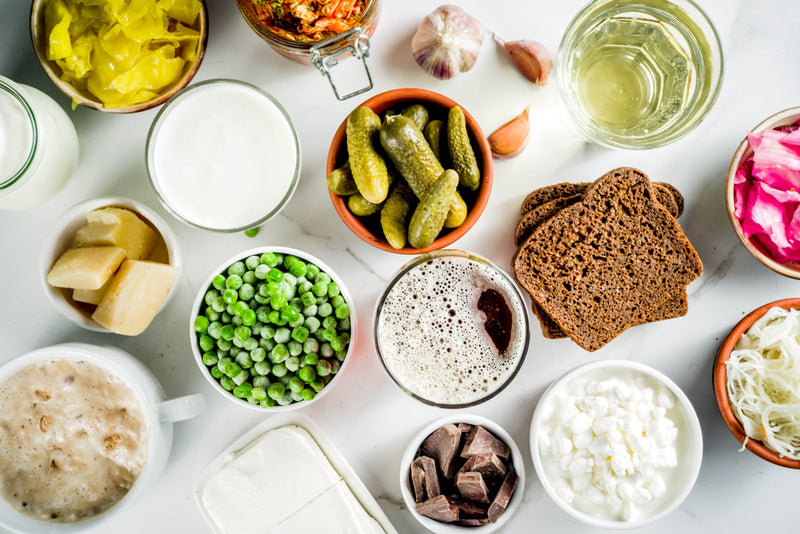 Are you getting sufficient amounts of probiotic-rich foods in your daily diet? This may come as a big surprise to you, but there is a good chance that you're probably not.
Probiotics can be defined as 'good' and 'friendly' bacterial cultures that we naturally consume in the forms of supplements or certain fermented foods.
Several studies have demonstrated the usefulness of probiotics to reduce seasonal allergy symptoms, minimize the risk of eczema in infants, reduce anxiety symptoms, improve gut health, and alleviate inflammatory bowel disease (IBD) and irritable bowel syndrome (IBS).
14 Best Sources Of Probiotic Foods
Kefir
A unique combination of fermented kefir grains and milk, this fermented dairy product contains approximately 10-34 strains of probiotics.
Lower in lactose, it is an excellent for fitness enthusiasts who want to improve their gut and gastrointestinal health.
Kombucha
An effervescent fermentation of black tea, Kombucha promotes liver detoxification, digestive health, and is loaded with antioxidants and polyphenols. It promotes a healthy immune system and alleviate intestinal and stomach issues such as constipation and diarrhea.
Coconut Kefir
Super easy to make, Coconut Kefir is preloaded with healthy enzymes, antioxidants, amino acids, organic acids, vitamins, and minerals. It helps in restoring the level of electrolytes in the body and regulating diastolic and systolic blood pressure.
Raw Cheese
Soft cheeses made of A2 cow, goat, and sheep milk are highly rich in probiotics. It is best to choose raw and unpasteurized cheeses as they are packed with beneficial bacteria, omega-3 fatty acids, naturally-occurring CLA (Conjugated Linoleic Acid), healthy fats, vitamins, minerals, and healthy fats.
Apple Cider Vinegar
Apple cider vinegar is an excellent source of probiotics. It also helps in enhancing insulin sensitivity, promoting weight loss, and regulating blood pressure & cholesterol levels. Rich in antimicrobial properties, Apple cider vinegar can also relieve heartburn and improve glucose and insulin levels.
Brine-Cured Olives
Brine-cured olives are highly effective to prevent diabetes, chronic inflammation, osteoporosis, cancer, heart conditions, and cognitive diseases. They support bone and heart health and are super-loaded with monounsaturated fats, vitamin E, and polyphenols.
Traditional Buttermilk
Also known as cultured buttermilk, Traditional Buttermilk improves oral health and is easy to digest than most dairy products. It supports strong bones and reduces the risk of blood pressure and cholesterol. Traditional Buttermilk also prevents dehydration and fights against acidity and constipation.
Raw Milk
Unpasteurized sand raw sheep's milk, A2 aged cheeses, goat's milk, and raw cow's milk is specifically high in probiotics. 
Sauerkraut
Low in calories and high in fiber, Sauerkraut is an excellent source of probiotics. It helps in maintaining healthy gut flora and aids the digestive process.
Sauerkraut is rich in iron, potassium, magnesium, phosphorus, calcium, carbs, fiber, and vitamins (A, C, and K). Enriched with powerful antioxidant and anti-inflammatory properties, Sauerkraut also includes healthy enzymes, beneficial bacteria, vitamins, and phytochemicals.
Pickles
Unfermented pickles are rich in vitamins A and K. They improve gut health and are an excellent way to get probiotics. Unfermented pickles help in suppressing inflammatory responses of the body often associated with allergies and promote the growth of friendly bacteria to aid digestion.
Beet Kvass
Beet Kvass helps in reducing inflammation, breaking down toxins, preventing infections, and restoring the balance to the gut microbiome. A highly nutritive tonic for liver health, it includes neurological supportive B vitamins, folate, manganese, copper, and potassium.
Cottage Cheese
Cottage Cheese is super-rich in vitamins and minerals such as phosphorus, calcium, and selenium. High in calcium and low in fat, Cottage Cheese helps in maintaining bone health. It supports weight loss and promotes muscle growth and recovery.
Sourdough Bread
Sourdough Bread packs a unique punch of versatility, flavor, and nutrition. It includes a rich number of prebiotic- and probiotic-like properties and improves gut health. Sourdough Bread also improves the digestion of gluten and promotes healthy aging.
Acidophilus Milk
Acidophilus milk is highly useful to regulate serum cholesterol levels. It is also effective to exert anticarginogenic activity, improve lactose digestion, and prevent intestinal infections. It also boosts the immune system and promotes the growth of good bacteria in your body.
We hope that this informative on 14 probiotic foods in India you should be eating for a healthy gut was useful to you.