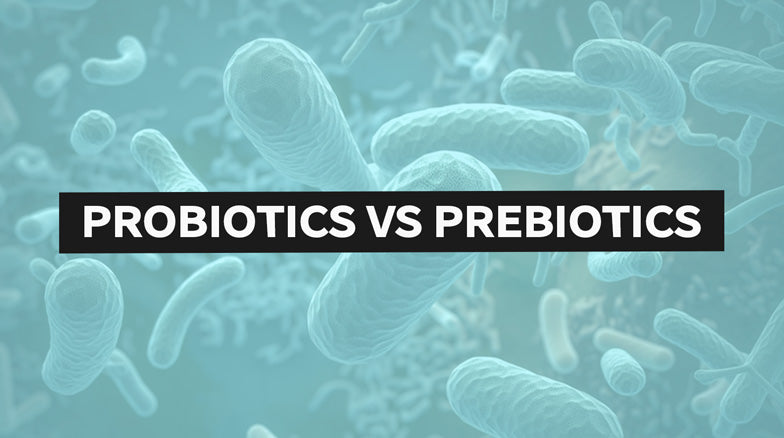 In the world of good health and nutrition, there have been many talks about the battle of probiotics vs prebiotics.
Let us read more about probiotics and prebiotics to gain a clear and complete understanding.
Both probiotics and prebiotics support helpful bacteria and other gut organisms.
Prebiotics serve as food for probiotics (tiny living organisms like yeast and bacteria).
Both probiotics and prebiotics helps in supporting the human body to build and maintain a healthy and diverse colony of bacteria as well as other microorganisms to aid digestion and support the gut.
They are also helpful to promote beneficial bacteria in the body by offering food. 
Probiotics help your body absorb proteins and vitamins, while prebiotics act as natural immunomodulators.
While prebiotics act as a good source of food for probiotics and other forms of bacteria, probiotics add to the healthy and diverse population of 'friendly' bacteria in the gut while supporting their growth.
Both probiotics and prebiotics also assist in creating a harmonious environment where it becomes easier for microorganisms to flourish.
The consumption of probiotics and prebiotics can help you significantly reduce the risk and occurrence of health conditions such as inflammation, diarrhea, heartburn, fatigue, stomach upset, frequent stomach discomfort, acid reflux, food intolerances, and frequent headaches.
They can also help in minimizing the risk and occurrence of achy joints, bloating, extreme sugary food cravings, frequent mood changes, and skin irritations (rashes, psoriasis, eczema, and acne).
Probotics
Probotics can be defined as 'good' or 'friendly' live bacteria that are generally found in specific supplements or foods. They improve digestive health and reduce the occurrence of antibiotic-related diarrhea and irritable bowel syndrome (IBS).
Probiotics can also help in preventing the severe disease necrotizing enterocolitis in preterm infants. They also improve mental health by alleviating the symptoms of depression and enhance gastrointestinal health.
Probiotics are also known to reduce vaginal infections, eczema, gestational diabetes, the incidence of ventilator-assisted pneumonia, and the requirement for antibiotics.
Foods that are considered to be high in probiotic content include kefir (dairy and nondairy), kombucha tea, kimchi, fermented cheeses like Gouda, traditional fermented buttermilk, and unpasteurized pickles.
Prebiotics
Prebiotics refer to substances that come from certain types of carbs (primarily fiber) that the human body is unable to digest. The gut's beneficial bacteria consume this fiber. Prebiotics support a better digestive health, calcium absorption, metabolism, and a healthy gut.
It is important to note here that foods that are considered to be high in prebiotic fiber include berries, beans, peas, legumes, asparagus, garlic, onions, leeks, and dandelion greens.
If you want to reap the optimum advantages of prebiotics and probiotics, you may use premium-grade supplements that are enriched with prebiotics and probiotics.
By doing this, you can aid digestive health and gut flora in countless ways. This will, in turn, improve immune system health, vaginal health, stool consistency, bowel movements, and overall gut bacteria.
In addition to these advantages, prebiotics and probiotics can also minimize symptoms of certain digestive conditions while improving the markers of digestive and gastrointestinal health.