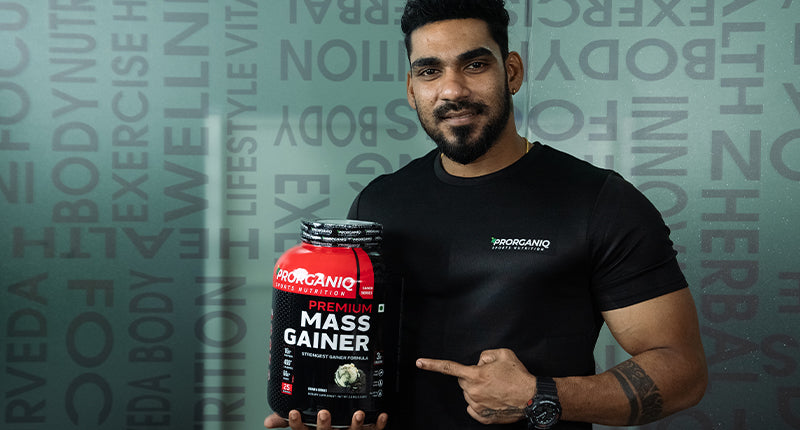 In today's fast-paced life, it can be overwhelming to take good care of our nutritional requirements and follow weight gain diet plans.
Thankfully, you can always relish the countless benefits of mass gainers that include complex carbs, lean proteins, healthy fats, vitamins, minerals, amino acids, and other micro-and macronutrients.
Mass Gainers are an excellent choice for people who have a strong metabolism or those who are underweight.
They help you achieve your macronutrient and daily calorie consumption goals so you can add solid muscle mass. Mass Gainers also help in promoting the repair and growth of body tissues.
Advantages Of Mass Gainers
High-quality mass gainers such as Prorganiq Mass Gainer are exceptional choices when it comes to gaining solid muscles and experiencing insane energy and muscle pumps.
They also include a good amount of fiber that helps in removing toxins from the body to aid digestion and promote a healthy gut.
Mass gainers also help you hit the gym harder and longer without experiencing fatigue or muscle soreness. 
One of the best things about mass gainers is that they help you pack solid muscles, and not body fat. They help you gain lean muscles while staying lean so that you are in the best shape of your life. 
For instance, Prorganiq Mass Gainer (soy-free, non-GMO, and gluten-free) is enriched with a powerful muscle gain formula to help you stay high on muscle mass, size, and definition and receive extra calories to stay energized throughout the day.
Prorganiq Mass Gainer offers significant and immediate results and promotes quick muscle recovery. All in all, Prorganiq Mass Gainer is a great choice for every fitness enthusiast who wants to attain a sculpted physique and gain big and sturdy muscles.
Mass Gainers can even help you meet extreme calorie requirements to fuel your gym workouts, strength training, and cardio sessions.
Moreover, most mass gainers include creatine and the high amount of quick-acting carbs in mass gainers helps creatine work as effectively as possible.
You can consume mass gainers any time of the day:
First thing in the morning: Your body is in a catabolic state after having all its nutrients after long hours of sleep. This makes early mornings a great time to take mass gainers to fuel enough calories, proteins, and micronutrients so that the body shifts to the anabolic state.
Before workouts: The prime time to feed fast-acting carbs to your muscles is 30-45 minutes before the workouts. This helps in driving the insulin and getting the amino acids to the body muscles quickly.
Right after workouts: Your body burns a big chunk of calories after an intense workout and its metabolic rate goes up. Taking a mass gainer at this point in time will offer the extra protein and calories to your body to help it preserve muscle mass and increase size.
Before bed: Your body is in a fasting state when you sleep at night. By consuming the mass gainer before you go to sleep, you can nourish the body with the extra protein and calories to heal, recover, and grow.
Time to start gaining!