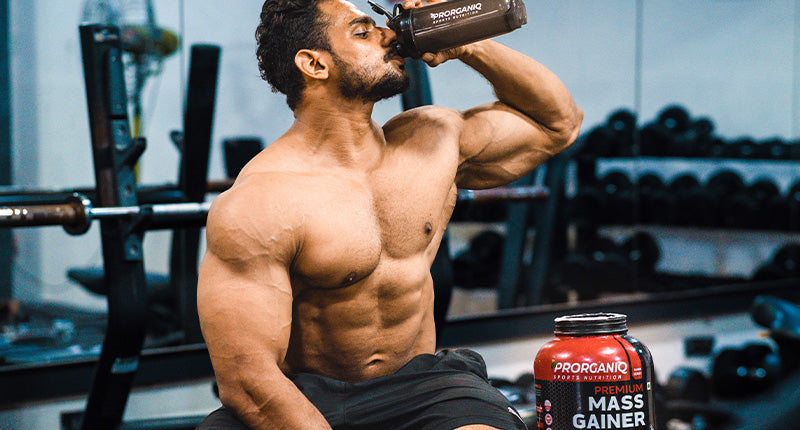 When to take Mass Gainer for best results? Should I be taking mass gainers on my off days as well? If you have these and similar other questions, this blog will surely be of interest to you.
Why Am I Not Gaining Mass And Weight?
People under the following categories usually find it difficult to gain or keep mass and weight:
Those with an overactive thyroid, or hyperthyroidism, and an overactive metabolism.
People with eating disorders.
Those doing too much cardio exercises.
Those not actually eating healthy enough.
Those who are working out too long or too hard.
Those who are not consuming the right macronutrients.
What To Do Then?
Your body requires an activated Mammalian Target of Rapamycin (mTOR) to build muscle. Excess cardio exercises shut down AMP-activated protein kinase (AMPK) that, in turn, shuts off mTOR to impede your ability to grow muscles. It is recommended that you should limit your cardio workouts to the bare minimum.
You should always focus on stimulating your body, and not annihilating it. Remember, your workouts should not leave you collapsed on the gym floor. You should remember that your body can grow fully only if it gets the right stimuli to adapt with adequate rest and consistent efforts over time.
The first rule to gaining weight and muscles is to create a calorie surplus (consume more calories than you can burn).
You should break bigger meals into smaller, more frequent meals to consume more calories.
You should include high-calorie foods in your daily diet (try lean proteins, vegetables, oils, nuts, and condiments).
When is the best time to take mass gainer?
the simple answer is anytime

.
You can take the mass gainer as early as you wake up in the morning. This will help your body get enough supplies of vitamins, minerals, protein, healthy fats, carbs, and micro-and macronutrients.
You can also take the mass gainer 30-40 minutes before a workout or with your breakfast so that your body is fueled with insane energy to handle strenuous workouts.
Most bodybuilders and fitness enthusiasts consume mass gainers immediately after a workout when the body is in serious need of vitamins, minerals, protein, healthy fats, carbs, and micro-and macronutrients. Taking a mass gainer immediately after a workout also promotes muscle recovery and healing.
You can even take a mass gainer right before you sleep so that your body has sufficient supplies of vitamins, minerals, protein, healthy fats, carbs, and micro-and macronutrients.
It is highly recommended that buy mass gainers only from reputed sellers of sports nutrition supplements such as Prorganiq. You can buy Prorganiq Mass Gainer to gain significant muscle mass, size, and definition while preserving hard-earned muscles.
Not only this, Prorganiq Premium Mass Gainer also helps you explore insane energy to break through plateaus and hit the gym harder like a beast.
Also Read:
How to Use Mass Gainer
?
Mass Gainer vs Whey Protein
Is Mass Gainer Good for Health
?