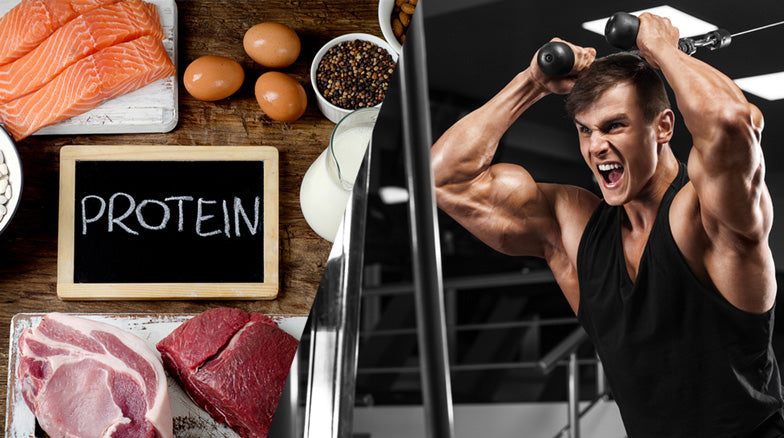 Fitness enthusiasts across the world are often confused with questions such as how much protein I need every day to build muscles or what's the smartest way to use protein to build rock-solid muscles.
Let's find out the answers to these and many more similar questions.
Protein is one of the three critical nutrients (besides carbohydrates and fat) that our body requires to build solid muscle.
After all, our bones, muscles, hair, and skin are all made from the protein we consume every day.
In fact, protein is vital for muscle growth, recovery, and maintenance over the entire course of our life. Needless to say, protein is important for our physical strength, mobility, and metabolic health.
Who Needs Protein More?
Protein is required by each one of us, especially those in weight training or endurance sports.
Several studies have demonstrated that our body requires more protein as we get older. This is simply because high protein levels help in preventing muscle loss that is commonly associated with reduced activity levels combined with the effects of aging.
Low protein levels can lead to health complications such as sarcopenia (age-related progressive loss of muscle strength and mass).
How Muscle Health Gets Influenced By Protein?
Protein is the building block of muscle tissue and the intake of adequate protein amounts helps in promoting muscle growth, recovery, and maintenance, especially after rigorous workouts and resistance exercise.
How Much Protein You Need To Build Muscle Per Day?
When it comes to the daily protein intake, the general rule of thumb is approximately 1.2 to 1.6 grams of protein per kilogram of your body weight to build and maintain solid muscle.
For instance, a strength athlete or weightlifter who wants to add muscle mass may require about 1.4 to 2.0 grams of protein per kilogram of body weight every day.
Ideally, a protein intake of 0.2-0.5 grams per kilogram of body weight is considered to be an excellent choice to stimulate protein synthesis.
In other words, an individual weighing 90kg may require 73 grams of protein every day while someone weighing 60kg may require 51 grams of protein every day.
You should avoid consuming more than 3 grams of protein per kilogram of your body weight every day since that can make your kidneys work harder to get rid of the waste by-products from protein metabolism.
It is important to remember here that your body will require more protein if you engage yourself into intense and long exercises.
The intake of protein within 30-45 minutes of exercise is considered to be the best choice since the muscles of our body are highly receptive at this time.
How To Maintain And Build Solid Muscle Mass?
You should focus on spacing your protein meals throughout the day. Ideally, you must aim for approximately 25-40 grams of protein in each meal and engage yourself in regular intense exercises.
For this, you can try out whey protein, soy, eggs, and dairy products.
We hope that this information on how much protein to build muscle per day was useful to you.