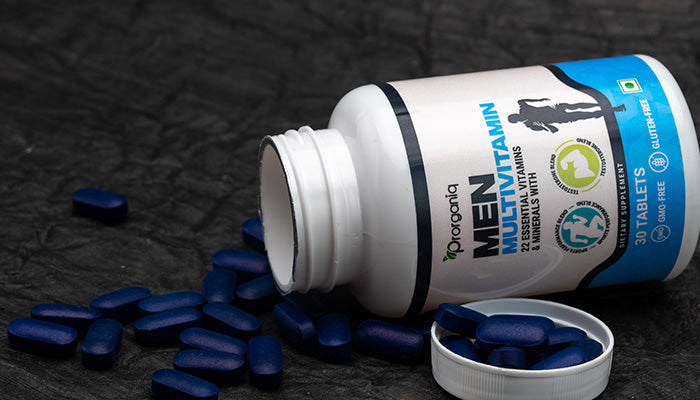 There is no denying the fact that vitamins, minerals, and other nutrients are vital for good health. Eating a balanced diet daily can help your body receive all of them.
Before taking multivitamins, it's important for you to gain a clear and complete understanding of the different kinds of vitamins.
Vitamins can be classified into two groups:
Water-soluble vitamins such as biotin, vitamin C, vitamin B6 and B12, Riboflavin, Pantothenic acid, Thiamine, Folic acid, and Ascorbic acid.
Fat-soluble vitamins such as vitamin A, D, E, and K.
The biggest difference between water-soluble vitamins and fat-soluble vitamins is that water-soluble vitamins aren't stored in the body and get dissolved in water. These vitamins are generally eliminated in the urine.
Since water-soluble vitamins don't get stored in the body, it becomes important to consume them more often. On the other hand, fat-soluble vitamins get dissolved in fat before they are being absorbed into the bloodstream.
How to take multivitamin tablets?
Multivitamins are ideally taken with a meal and a glass of water. They can be taken in the morning, afternoon, evening, or night. The timing of consuming multivitamins doesn't matter but it is important to consume multivitamins daily, ideally at the same time every day.
It is important to take multivitamins with a meal as the body may find it difficult to properly absorb the fat-soluble vitamins on an empty stomach with water. This may cause an upset stomach.
Therefore, it's best to consume multivitamins with a meal and water or a water-based beverage so that both water-soluble vitamins and fat-soluble vitamins can be effectively absorbed by the body.
You should remember that the abuse or overdosing of multivitamins can lead to side effects such as irregular heartbeat, nausea, palpitation, or increased sweating.
In addition to taking multivitamins, it's important for you to consume a healthy, balanced, and nutritious diet. You should also lead an active lifestyle and abstain from unhealthy habits such as smoking or consuming alcohol. The use of banned drugs and similar products should always be avoided.
As always, the advice of a healthcare professional before you initiate the use of multivitamins is highly recommended.
Buy top-grade multivitamins at Prorganiq, the best place to purchase the best multivitamins.
Men's Multivitamin: https://prorganiq.com/products/mens-multivitamin
Women's Multivitamin: https://prorganiq.com/products/womens-multivitamin