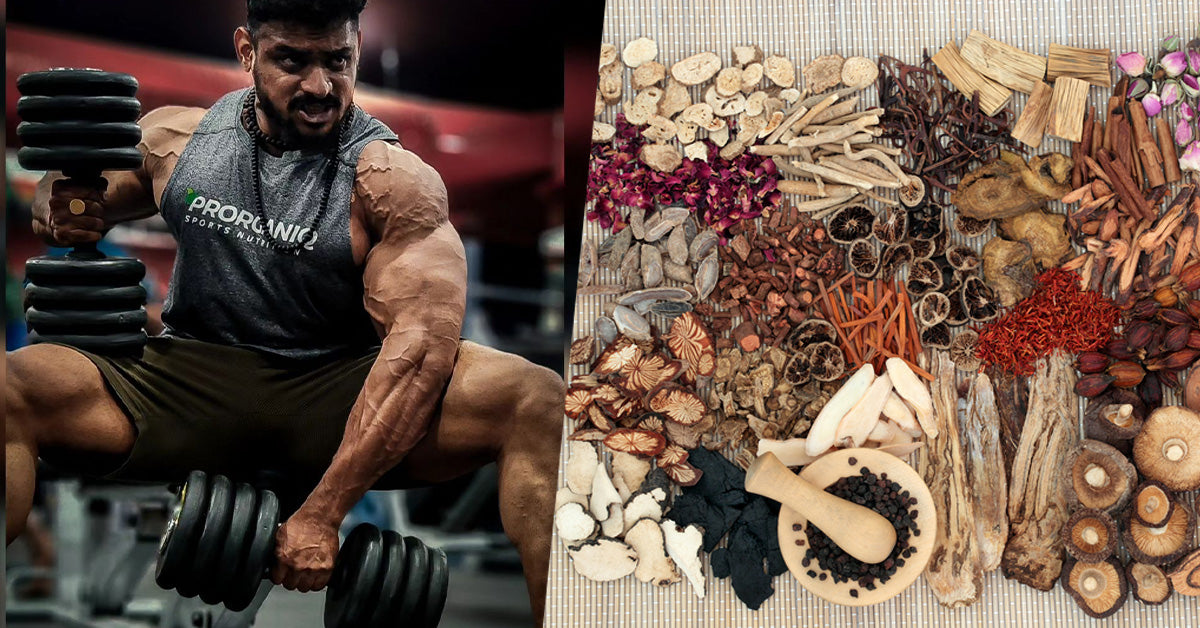 Low testosterone is a common complication faced by many men. While there are many conventional testosterone treatment options available these days, you can always count on natural herbs that boost testosterone.
Let us explore at some of the 9 most popular herbs to boost testosterone levels.
Ashwagandha
An adaptogenic herb, Ashwagandha has been used for centuries to treat low testosterone or erectile dysfunction. Several studies have demonstrated that the use of Ashwagandha can significantly enhance Dehydroepiandrosterone (DHEA) and testosterone. 
It can also treat symptoms of low testosterone such as decreased libido, loss of muscle mass, increased body fat, fertility problems, mood changes, fatigue, and erectile dysfunction. Ashwagandha can also improve the quality, motility, and count of sperm in men.
Malaysian Ginseng
Malaysian Ginseng is globally renowned for its unique ability to promote circulation and the flow of blood in the body.
It also improves blood oxygenation and treats sexual performance, stress, and male fertility. Malaysian Ginseng is also known to treat obesity, sports performance, energy, and libido.
Rhodiola Rosea
A versatile adaptogen, Rhodiola Rosea helps in protecting body cells against damage. It also prevents stress, depression, fatigue, and sexual disorders.
Rhodiola Rosea also improves the resistance of your body against stress in non-specific ways while enhancing the overall quality of life. It also improves brain function, sleep, memory, and learning.
Rhodiola Rosea also improves antioxidant activity in the body and helps you better manage your blood sugar levels.
Horny Goat Weed
Horny Goat Weed (Epimedium) demonstrates unmatched efficacy to treat pain, fatigue, infertility, stress, low libido, and erectile dysfunction. It is also useful to treat osteoporosis and hay fever.
Horny Goat Weed acts as a "natural Viagra" to improve sexual performance and enhances sexual performance, intensity, and duration to redefine sexual life.
Pine bark
Also known as punus pinaster, Pine bark includes proanthocyanidins that significantly enhance cardiovascular health. They are also helpful to treat erectile dysfunction and minimize bad cholesterol. Pine bark also improves total plasma testosterone levels.
Saw Palmetto
Often underrated, Saw Palmetto is highly effective to treat infertility, low testosterone, libido, and premature ejaculation.
Saw Palmetto significantly improves the levels of free testosterone in the body and inhibits the conversion of testosterone to Dihydrotestosterone (DHT) that can cause male pattern baldness and prostate problems.
Fenugreek
Fenugreek, which is also known as trigonella foenum-graecum, is commonly used in supplements for weight loss.
However, the benefits of Fenugreek extend well beyond just weight loss. It can considerably improve testosterone levels in your body.
In fact, Fenugreek seed extract can even improve testosterone levels in women. The use of Fenugreek can elevate sexual performance, testosterone, and sexual pleasure associated with intimate sessions.
Tribulus Terrestris
A popular ingredient in most sexual wellness products, Tribulus Terrestris can improve sexual function, intensity, pleasure, and duration in quick time. It also improves erectile function and libido levels.
Characterized by powerful aphrodisiac qualities, Tribulus Terrestris also improves sperm movement, count, and motility. It is also known to improve athletic performance and alleviate muscle damage.
Yohimbe Bark
A popular herb, Yohimbe is an excellent choice for men who are diagnosed with poor libido, erectile dysfunction, and infertility. It acts as a vasodilator to improve the flow and circulation of blood in the body.
Yohimbe Bark also improves testosterone, the duration of intimate sessions, energy, and sexual performance.
Click to Shop the Best Testosterone Booster
Also Read:
8 Foods That Kill Testosterone
7 Foods That Boost Testosterone Level Naturally
6 Fruits That Boost Testosterone Levels Naturally