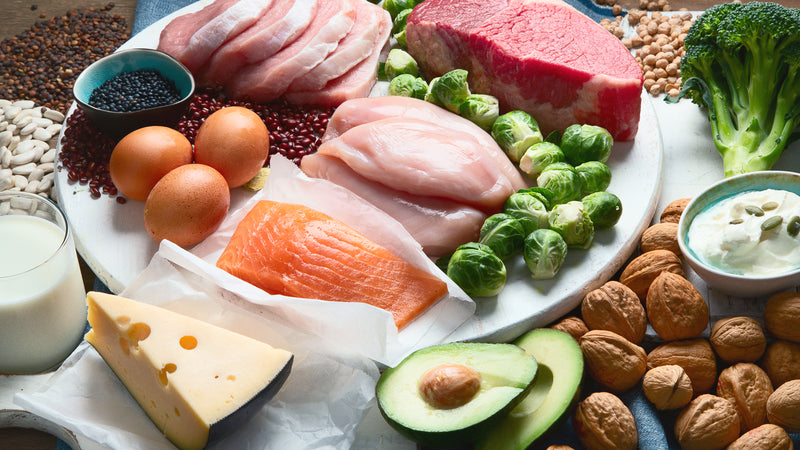 If you're a fitness enthusiast or bodybuilder who is curious about how to increase protein intake, this blog on naturally increasing protein intake would surely be of great interest to you.
Consume Your Proteins First
Ideally, you should start by consuming the sources of protein first before you get going with the starches. This is simply because protein can significantly improve the production of PYY (peptide YY), which is a gut hormone responsible to make you feel satisfied and full.
Furthermore, a high intake of protein can minimize levels of the hunger hormone (ghrelin) while also increasing the metabolic rate of your body after eating and during sleep.
Say Goodbye To Cereals & Embrace Eggs
Many people tend to consume breakfast foods that are low in protein. Some common examples of low-protein breakfast foods include cereals, bagels, and toast. You should instead include eggs that are a rich source of high-quality protein, choline, and selenium.
Try Healthy Nuts
Healthy nuts such as almonds are exceptionally rich in heart-healthy monounsaturated fat, fibre, and magnesium.
A 28-gram serving (1-ounce) serving of almonds contains approximately 6 grams of protein. How about adding some chopped almonds over cottage cheese, oatmeal, salads, or yogurt?
Embrace The Magic Of Greek Yogurt
Rich in protein, Greek Yogurt is one of the best things that you can include in your diet to stay fit and healthy.
This richer and creamier yogurt can elevate the release of glucagon-like peptide 1 and PYY that make your feel full and reduce hunger levels.
Snack On Cottage Cheese
There is no denying the fact that snacks can be a great choice to receive extra protein. However, most people commit the mistake of trying out low-protein snacks like crackers, pretzels, and chips.
You should instead opt for cottage or cheddar cheese. How about adding some lip-smacking cheese with tomatoes, whole grain crackers, or sliced apples?
Dosa Enriched With Lentils And Legumes
Dosa is one of the best breakfast choices for fitness enthusiasts. Say goodbye to the normal dosa and replace Rava or rice dosa with pesarattu or adai dosa.
Pesarattu or adai generally consists of a wide variety of mixed legumes. You can even try mixing a few fresh, green leafy vegetables such as methi, green chillies, spinach, coriander, or Bell Peppers to turn the dosa more wholesome. 
Add In Some Sprouts
Sprouting legumes such as black chana, cowpeas, green peas, lobia, horse gram, green moong, or any legume can help you increase your protein intake like never before.
If this is not all, this addition can also significantly enhance the amino acid profile of meals. You can even add sprouting legumes to any rice preparation or poha.
Include Healthy Seeds
You can start including healthy seeds such as melon, garden cress, pumpkin, chia, sabza, hemp, and sunflower to enhance your daily protein intake.
The best thing about these amazing seeds is that they can also enhance the intake of fats, selenium, magnesium, minerals, and other vital micronutrients. How about adding these seeds to your salads, halwa, porridge, or soups?
Also Read:
15+ Protein Foods for Bodybuilding
9 Best Protein-Rich Dry Fruits in India