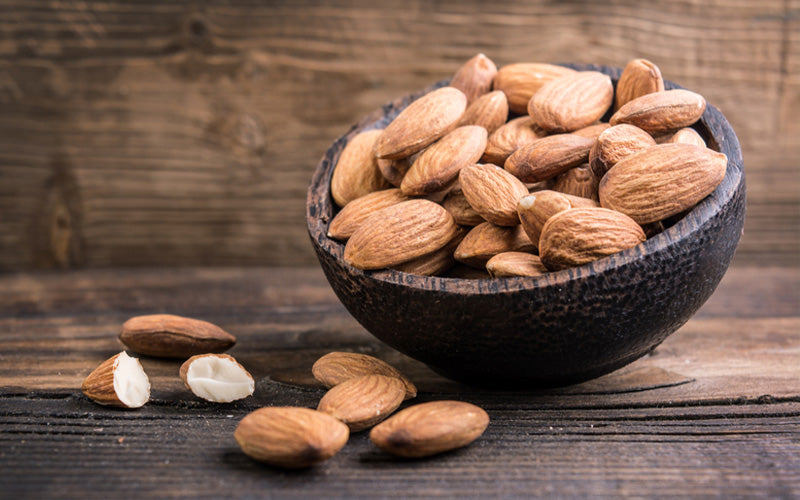 For centuries, the innumerable benefits of almonds have been appreciated by the mankind. An excellent source of plant-based protein, almonds includes all the essential as well as non-essential amino acids.
Let's now answer the big question - how much protein in 10 almonds?
Nutritional Facts Of Almonds
10 almonds include 2.5 grams of protein, 2.37 grams of carbs, and 69 calories. They also include 8.0–20.9 mg of α-tocopherol (antioxidant), 25.6 grams of vitamin E, 268 milligrams of magnesium, 484 milligrams of phosphorus, 2.285 milligrams of manganese, and 12.5 grams of fiber.
Benefits Of Almonds
An excellent source of protein for vegetarians and vegans, almonds is loaded with a rich range of antioxidants. They help protect your body against damaging oxidative stress.
Almonds are a great choice for people with fluctuating blood sugar levels. Furthermore, their abundant content of fiber, protein, and magnesium helps in stabilizing blood sugar levels.
Enriched with essential proteins and fiber, almonds are highly useful to lose weight. They help build lean muscle while keeping you full for long hours.

 
Almonds are a rich source of antioxidants such as kaempferol, catechin, vitamin E, and epicatechin that prevent oxidative stress. They also help in preventing health complications such as memory loss, degenerative diseases such as cancer, and inflammation.

 
Almonds are a powerhouse of energy and full of vitamins, minerals, healthy fat, and protein. This helps in maintaining a smooth, continuous, and uninterrupted flow of energy in the body.
Almonds are rich in plant compounds such as sterol along with nutrients like healthy unsaturated fats and dietary fiber. They help in inhibiting the absorption of carbohydrates to prevent the formation of painful gallstones.
Almonds are highly recommended for pregnant women since they include a high protein, healthy fat, and vitamin E content. They help in preventing constipation and assisting digestion that are common problems during pregnancy. The regular consumption of almonds can improve the appearance, elasticity, and texture of your skin. It can also prevent the signs of aging such as rough skin texture, visible pores, uneven skin tone, fine lines, wrinkles, dry skin, and dullness of skin.
Almonds are rich in bone-strengthening nutrients such as vitamin K, magnesium, proteins, calcium, zinc, and copper.

 
Almonds are known to improve mental alertness, focus, concentration, and memory as they are enriched with riboflavin and L-carnitine. Moreover, the consumption of almonds with milk helps in producing potassium that can significantly elevate the count of electrolytes in the body to improve memory.
A crunchy yet super nutritious nut, almond is naturally gluten-free that makes it an excellent choice for people who are intolerant to gluten.
A versatile superfood, almond can be consumed in different forms. You can relish your favorite gajar halwa with almond toppings or use almonds as cake garnishing. You can even try out salted, honey-roasted, chocolate-dipped, slivered, sliced, or dry-roasted almonds. The best thing is that the nutritional value and taste of almonds remains the same.
We hope that this information on the benefits of almonds and how much protein in 10 almonds was informative to you.