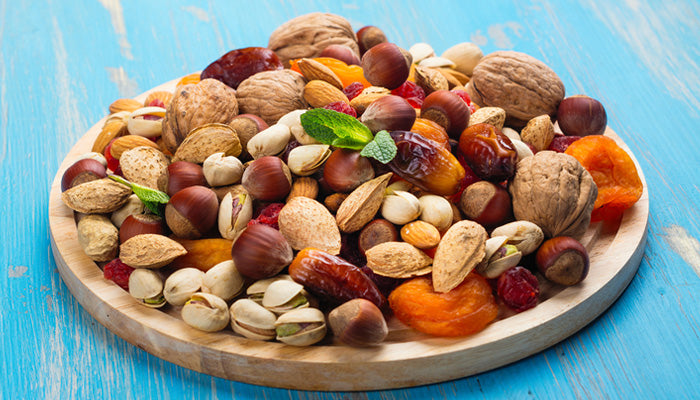 Dry fruits are an excellent source of protein. If you want to include rich protein in your daily diet, it's time for you to embrace high-protein dry fruits.
Almonds (Badam)
Almonds are highly popular dry fruits that offer a wide range of health and other benefits. They are rich in essential oils, vitamin E, and antioxidants that make them a great choice for adults and children.
The best thing is that you can consume them any time of the day or night to keep your energy levels stable.
A perfect go-to snack option, almonds regulate blood sugar levels and keep your heart healthy. Moreover, they help you maintain a healthy and stable weight while keeping your hair and skin healthy.
Pistachios (Pista)
If you have a habit of constantly eating, Pistachios (Pista) can be a good choice for you. They help you feel fuller for longer and suppress your appetite so you don't have frequent food cravings.
Pistachios include antioxidants, oleic acid, calcium, magnesium, iron, selenium, zinc, carotenes, vitamin E, copper, manganese, and potassium.
They are helpful to reduce weight, boost immunity, prevent diabetes, and reducing bad cholesterol levels.
Cashews (Kaju)
Globally renowned for their creamy texture and delicious flavor, Cashews (Kaju) include rich quantities of magnesium, protein, vitamin B6, and vitamin E. They are highly useful for regulating blood sugar, improving your heart health, and losing weight.
Apricots (Khumani)
Apricots (Khumani) can keep you fuller for longer and provide essential nutrients such as magnesium, vitamin E, vitamin A, and copper. Rich in antioxidants, this nutrient-dense dry fruit is good for your eyes and helps you with weight loss.

Dates (Khajoor)
A tropical dry fruit, Khajoor are available in both dry and wet varieties. This iron-rich dry fruit is rich in digestive fibers and can help in suppressing your food cravings. It improves hemoglobin levels, enhances gut health, boosts energy, and reduces weight.
Hazelnuts
Produced by the Corylus tree, hazelnuts are high in fats, vitamins, minerals, and protein. This nutty dry fruit with a sweet flavor is usually eaten roasted, raw, or ground into a paste.
It is also used in chocolate products like Granola and Nutella. It protects against cell damage, reduces cholesterol levels, helps in reducing weight, supports heart health, and enhances insulin sensitivity.
Walnuts (Akhrot)
A single-seeded dry fruit, Walnuts (Akhrot) are rich in vitamins, minerals, omega-3 fatty acids, proteins, and antioxidants. Walnuts are a good choice to reduce stress levels and are considered to be a healthy choice for your skin and hair.
Raisins (Kishmish)
Dried grapes with a sweet and sour flavor, raisins are an excellent source of iron and are usually consumed by those with anemia. They are highly beneficial to the digestive system and help you get rid of constipation and acidity.
Prunes
A form of dried plum, prunes provide numerous benefits and are highly nutritious. They are a rich source of iron and help in reducing blood pressure and cholesterol levels.
We hope that this guide on the best high-protein dry fruits was helpful to you.
Also Read:
11 Best Protein Rich Vegan Foods in India