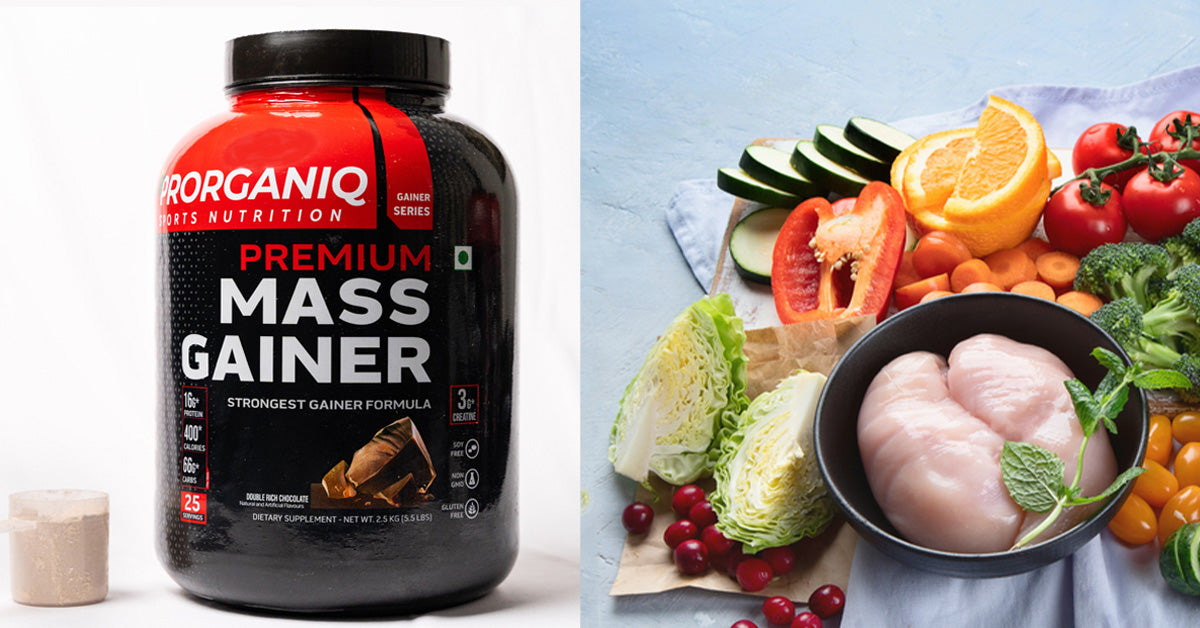 Want to get a balanced amount of muscle mass and subcutaneous fat? Wondering how to proceed with a mass gain diet plan?
In this healthy weight gain diet plan guide, we will help you gain a clear understanding of how to get started with a mass gain diet plan.
Mass Gainer Diet Plan - Foods To Eat
You should make a mass gain diet plan for yourself by including the following:
Grains: Oats, quinoa, pasta, bread, and rice.
Plant-based proteins: Edamame, peas, chickpeas, tempeh, and tofu.
Animal-based proteins: Turkey, whole eggs, bison, salmon, and lean beef cuts.
Dairy: Cottage cheese, kefir, Greek yogurt, and milk.
Fruits: Bananas, avocados, pears, berries, oranges, and apples.
Vegetables: Cauliflower, peas, kale, peppers, zucchini, broccoli, sweet potatoes, and squash.
Fats and oils: Nut butter (almond or natural peanut butter), olive oil, flax seeds, walnuts, and almonds.
You can even add protein powders (whey or casein) or plant-based powders such as pea, soy, or rice to smoothies for a nutrient- and calorie-packed snack.
A good mass gainer such as Prorganiq Mass Gainer is also highly recommended to meet your daily nutrient and calorie needs.
It is also advised that you should lead an active lifestyle, have an uninterrupted sleep of at least 8-9 hours at night, and stay hydrated throughout the day.
Mass Gainer Diet Plan - Foods To Avoid
Fast foods: Burgers, hot dogs, pizza, and tacos.
Fried foods: Chicken strips, cheese sticks, doughnuts, onion rings, and French fries.
Refined carbs: Sugary cereals, cookies, chips, and pastries.
Sugary drinks and foods: Candy, soda, ice cream, sweet coffee drinks, sweetened tea, and sugary baked goods.
It is also important for you to avoid nicotine and alcohol consumption.
Breakfast Options:
1 cup oats with 1 cup of plant-based or dairy milk, 2 tablespoons of peanut butter, and 1 sliced banana.
3-4 whole wheat breast toast slices with peanut butter, 1 full egg omelet, and 3 egg whites.
1 scoop of whey protein, 1 banana, a few almonds, and walnuts, 1 cup of low-fat milk, and 150 gm oatmeal.
Snack Options:
¼ cup granola, 20 nuts, ¼ cup dried fruit, and trail mix made with 1 cup of dry cereal.

1 cup cottage cheese and ½ cup blueberries.

1 granola bar, 2 pieces of string cheese, and 1 piece of fruit.

1 scoop whey protein powder mixed in a cup of dairy or plant-based milk.

1 cup of Greek yogurt and 1 cup of strawberries.

½ cup chickpeas atop greens.

1 cup green tea, 1 apple or orange, and 2-4 multivitamin biscuits.
Lunch Options:
1 cup spaghetti with ¾ cups tomato sauce, 1 medium breadstick with 1 tablespoon butter, and 4 ounces cooked ground beef.

5-6 whole wheat chapattis (rotis) or 150 gm brown rice, salad, 1 bowl mix vegetables, and 150 gm fish or skinless chicken breast.

12-inch sub sandwich with Cheese, 2 tablespoons of hummus, apple slices on the side, and 3 ounces of baby carrots.

1 medium sweet potato, 1-ounce nuts, ¾ cup green beans, and 6-ounce chicken breast.
Dinner Options:
1 cup brown rice, 5 asparagus spears, and 4 ounces salmon.

½ cup quinoa, 4-ounces chicken breast, and 1 ½ cup of sugar snap peas.

100 gm lean/skinless chicken or 1 small fish, 4-6 whole wheat chapattis (rotis) or 1 cup brown rice, and stir-fried vegetables with a baked potato.
We hope this mass gain diet plan guide was useful to you.
=> Click to Learn More About Prorganiq Mass Gainer