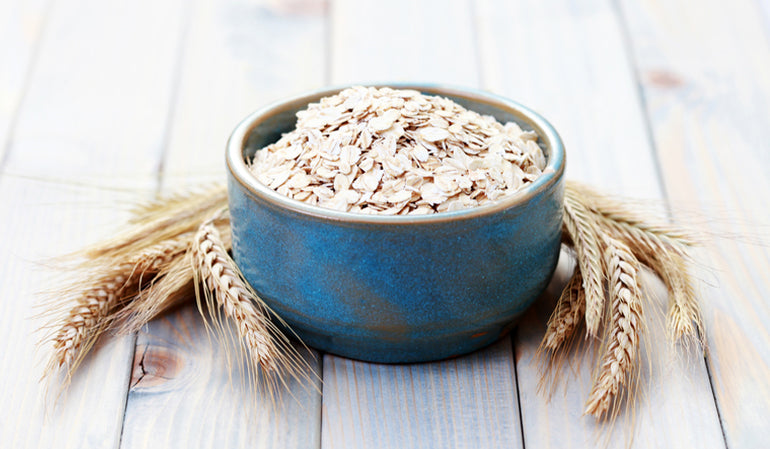 If you want to enjoy a delicious breakfast every day, it's difficult to miss out on lip-smacking oats. Highly rich in protein, oats are also an excellent source of fibre, B vitamins, manganese, zinc, copper, iron, and potassium.
Let us read more about the level of protein in oats per 100g. 
Nutritional Profile Of Oats
A serving of 100 grams of oats includes 16.9 grams of protein, 2.2 grams of monounsaturated fat, 66.3 grams of carbohydrates, 10.6 grams of fibre, 0.8mg of vitamin B1, 0.1mg of riboflavin, and 56μg of folic acid.
It also includes 54mg of calcium, 1.3μg of Pantothenic acid (B5), 175 kcal energy, 4.9mg of manganese, 0.6mg of copper, 4.0mg of zinc, and 429mg of potassium.
Oats are power-packed with phytonutrients, vitamins, and minerals. They can be a good choice for people with diabetes as oats help in balancing blood sugar levels. Moreover, the soluble fibre content in oats can feed the gut's good bacteria so the microbiome levels in your body stay balanced.
A low glycaemic index (GI) food, oats are 100 percent gluten-free in their natural form. They include all nine essential amino acids (phenylalanine, threonine, tryptophan, isoleucine, leucine, lysine, methionine, valine, and histidine).
Also Read: How Much Protein in 1 Banana?
Health Benefits Of Oats:
There is no denying the fact that oats rule the segment of grains as the super champion as far as protein content is concerned. They include avenalin, which is a unique high-quality protein found only in oats. Oats can also be consumed by most individuals with glucose intolerance as it includes small quantities of avenin (another protein).
One of the biggest advantages of oats is that they include both insoluble (cellulose, lignin, and hemicellulose) and soluble fibre. This characteristic of oats makes them a great choice for effective sugar and fat metabolism.
Furthermore, oats contain beta-glucans that can dramatically slow down the digestion speed so you can experience long-lasting energy to fuel your gym workouts. Several studies have also suggested that regular consumption of oats can regulate blood sugar levels, facilitate healthy weight management, and minimize cholesterol levels.
Oats can improve insulin sensitivity and are packed with antioxidants. They are a good choice for fitness enthusiasts and bodybuilders, who want to lose body weight as oats increase fullness, suppress appetite, reduce food cravings, and slow down the digestion process.
The best thing is that you can consume oats in different forms such as oatmeal, instant oats, oat cakes, oat biscuits, jumbo oats, granola, muesli, porridge oats, and oat flour to name a few.
If this is not all, you can even try out oat recipes such as oats upma, oats dosa, coconut oats, oat egg omelettes, oats idlis, oats uttapam, oats besan cheela, vegetable oat porridge, chocolate oats, and oats fruit smoothie. 
Oats that are rightly considered as an ideal base for a protein-dense meal can be blended with flaxseed, eggs, chopped nuts, chia seeds, nut butters, and even with Prorganiq whey protein.
We hope that this information on the health benefits of oats and the level of level of protein in oats per 100g was useful to you.
Also Read:
How Much Protein in 10 Almonds?